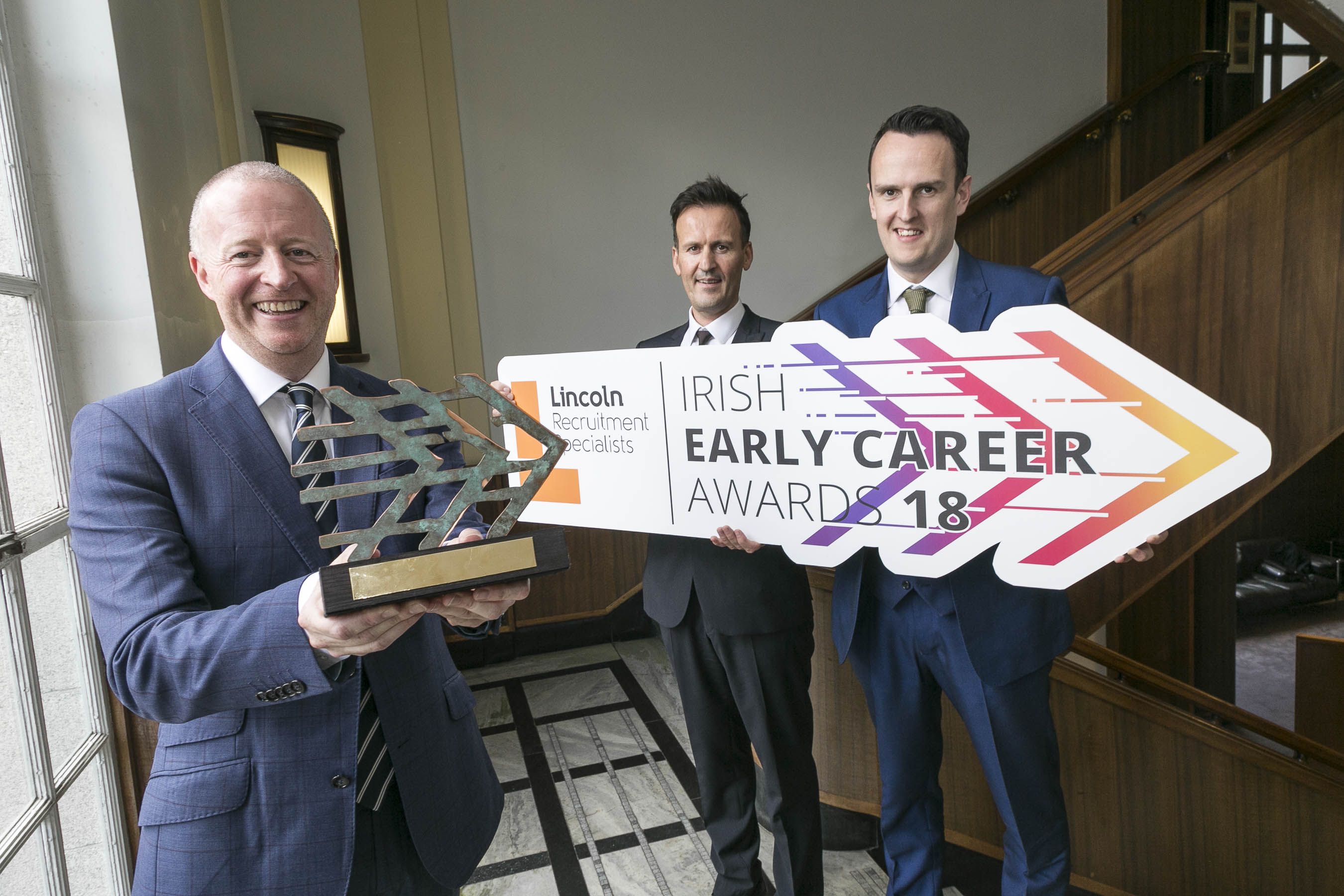 11 Oct

PRESS RELEASE – Finalists announced for Irish Early Career Awards
Increased level of talent this year marks the toughest competition to date for judges
IRELAND- The finalists have just been announced in this year's Lincoln Recruitment Irish Early Career Awards in association with KBC Bank. A selection of Ireland's most enthusiastic young professionals from areas such as marketing, digital, finance and more have been chosen to go into the prestigious final which takes place at the mansion house in Dublin on the 1st of November.
The Lincoln Recruitment Irish Early Career Awards celebrates the most talented business minds across Ireland. Judges say competition this year was its toughest yet and that they received an unprecedented number of entries. Some of the categories for 2018 include:
Early Career Compliance & Risk Professional sponsored by ACOI& IOB
Early Career –  Public Service Making a Difference Award
Early Career Sales Professional sponsored by Sales Talk
Early Career Digital Professional
And Early Career Fund Services Professional sponsored by ACOI& IOB
Each category consists of four finalists. This year's judging panel consists of Shay Dalton, Managing Director, Lincoln Recruitment Specialists (Chairman of the Judging Panel) Aidan Power, Director of Customer Brand and Marketing, KBC, Lawrence Hickey, Chief Financial Officer, Digicel Group and Maeve McEnri, Director of Human Resources at KBC Bank Ireland among others.
Finalists from leading corporations KPMG, Deloitte, Microsoft, IBM and Bank of Ireland among others will battle it out to be award-winning titles.
Over 300 people are expected to turn out for the glittering event which is being hosted by renowned broadcaster Des Cahill. The Irish Early Career Awards provides a platform and recognition for talented individuals and organisations and is one of the most established events of its kind in Ireland. This years event will focus on celebrating and recognising skills and achievements.
Shay Dalton, Managing Director of Lincoln Recruitment, Chairman of the Judging Panel and title sponsor of the event said "Lincoln Recruitment is delighted to sponsor the Irish Early Career Awards for a third year. The awards give us the chance to shine a light on the achievements of innovative young talents from across the country and to make an investment in Ireland's leaders of the future. Throughout this process, the judge's aim has been to find a balance of outstanding contribution to a person's chosen profession but also to recognise the context of their experience and environment. They also take into account the person's contribution to society generally through their qualifications and also their future potential. The quality of these young professionals is highlighted in the finalists for this year's awards, and we look forward to celebrating their success.
Speaking about the awards KBC Bank Ireland's Director of Customer, Brand & Marketing, Aidan Power, said: "This is the second year that KBC has partnered with the Irish Early Career Awards and we are, once again, delighted to support as platinum sponsor. At KBC, we understand the importance of nurturing young talent and our sponsorship of the Early Career awards allows us to celebrate blossoming talent and support those who have made a significant impact in their chosen industry at a young age. The quality of young professionals we have seen in the judging process is outstanding and what's more reassuring is that these professionals are the future of business in Ireland. We look forward to celebrating the achievements of this year's finalists at the awards in November."
"This year, we are going one step further in our bid to support Ireland's young talent with the KBC Early Career Bursary. Through the bursary, we want to recognise the achievements of an early stage entrepreneur and support them as they embark on their career in their chosen field. The winner will be chosen from the Entrepreneur of the Year category finalists" he added
To find out more on the Lincoln Recruitment Irish Early Career Awards in association with KBC Bank please visit http://earlycareerawards.ie/