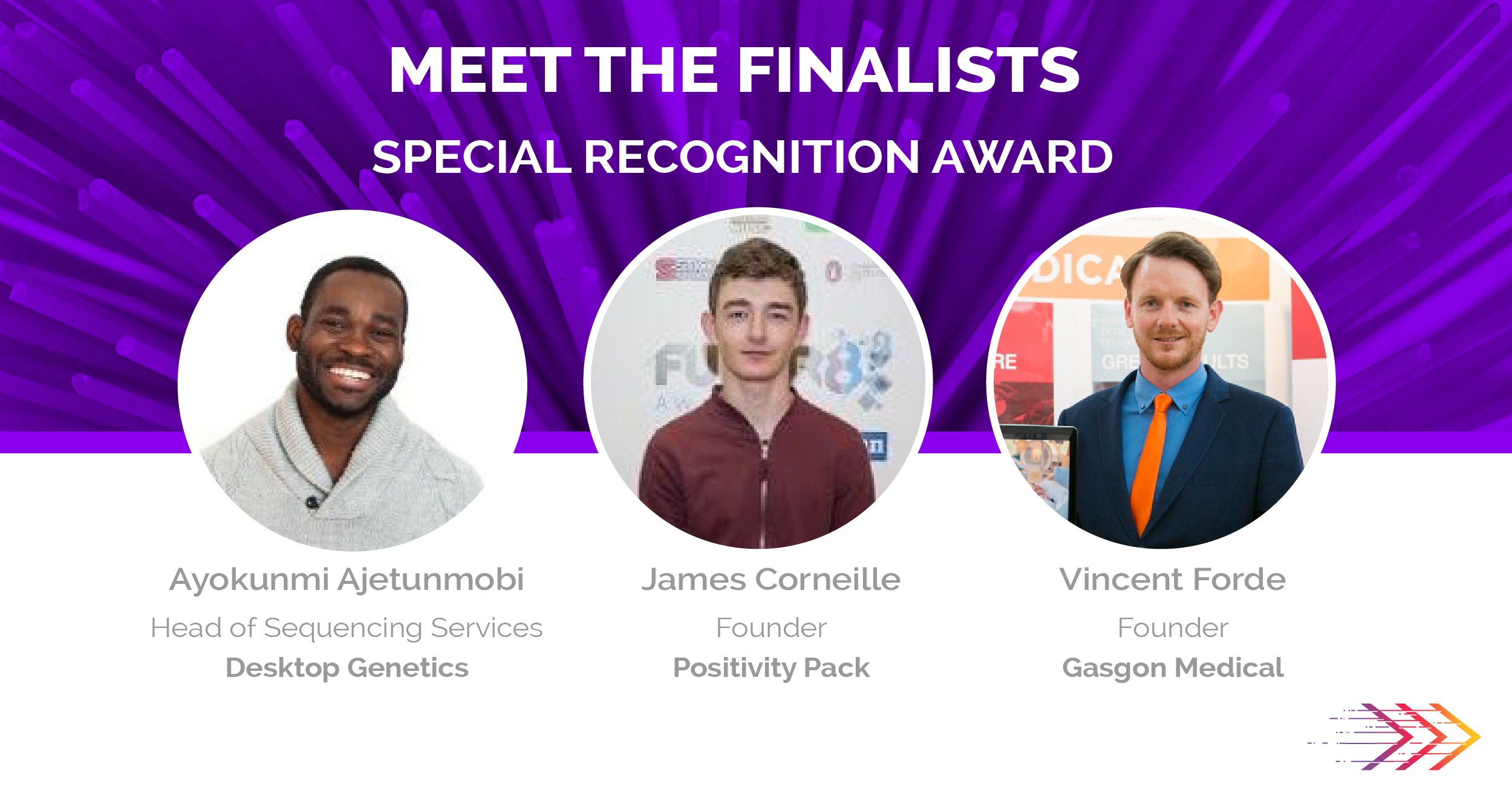 20 Oct

Meet the Finalists – Special Recognition Award 2016

In our first year running, we are thrilled with the overwhelming number of nominations we have received over the past number of months and can say it has been no easy task for our judges shortlisting just 3 finalists in each of our categories.

Over the past number of months, we also received a number of nominations that stood out to us for different reasons and may not have slotted into one of our current categories. For this reason, we decided to run the Early Career – Special Recognition Award.

This category is a mix of nominations from a range of industries that we felt were exceptional and deserved a category of their own. After long deliberation, our judging panel decided on our three finalists for this award.
Meet the finalists
Ayokunmi Ajetunmobi
Desktop Genetics – 

Head of Sequencing Services
Graduating from Trinity College University earlier this year with a Ph.D. in Clinical Medicine AJ has over 10 years experience working within this sector.
AJ is currently based in London working as the Head of Sequencing Services for Desktop Genetics, in the past AJ has worked in various roles with Evolve Biomed Group, Oxbridge Biotech Roundtable, Molecular Medicine Ireland, DISCE Ltd. & Cellix Ltd in Ireland and the UK.
AJ is an entrepreneurial scientist with extensive experience implementing multidisciplinary partnerships across academia and industry with a strong focus on developing strategies that accelerate research discoveries into clinical applications. He has been involved with 2 Biotech companies helping implement these multidisciplinary partnerships.
AJ is a key figure behind Evolve Biomed Group – An Irish not-for- profit organisation supporting early career researchers.
James Corneille
Positivity Pack – 

Entrepreneur, Founder
James discovered his passion for entrepreneurship and the tech industry at just 8 years old. Working part time in a local computer business, James was involved in customer service, sales, computer repairs, filing documents and stock ordering, exposing James to a whole new world in business.
With this new found knowledge James established his own business becoming one of Irelands youngest entrepreneurs and is now the successful founder of  – Positivity Pack.
James has also racked up a number of other achievements on his road to success, to date James has won 13 different awards, including the Microsoft App Hero, Eircom Junior Spiders, and Swipe Festival along with being the ambassador of two separate organisations: Student Slingshot and Project Zilkr.
Vincent Forde
Gasgon Medical – Founder
In 2010 Vincent discovered his entrepreneurial flair as the founder of Kuebo Design, a successful design company that has been established over 7 years and continuing to grow.
During this time Vincent has attended Cork Institute of Technology studying Mechanical Engineering, while also establishing his second business Gasgon Medical, a start-up company that supports front-line medical staff through innovative products and procedures to ensure better patient outcomes.
Vincent has also been accredited with a number of prestigious awards including Accenture 'Leaders of Tomorrow' , CIT 'Prize for Innovation' and Enterprise Ireland 'College Entrepreneur of the Year'
On behalf of all the team at the Irish Early Career Awards, we would like to thank all our finalists for their involvement in the Awards and wish you the best of luck on the night and every success in your  future careers.