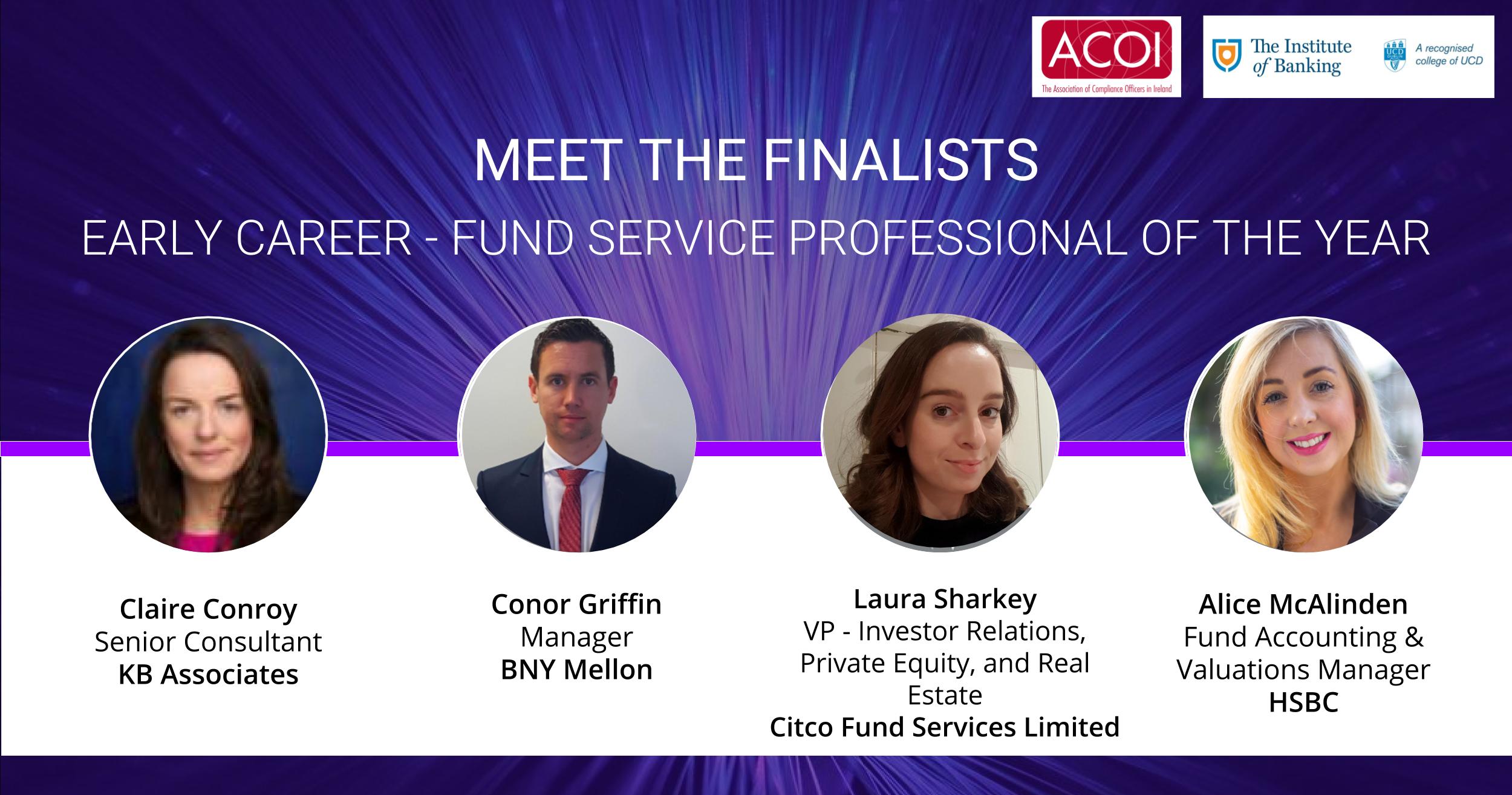 23 Oct

Meet the Finalists – Fund Services Professional of the Year 2018

The Irish Early Career Awards are proud to announce the finalists for the 2018 Early Career – Fund Services Professional of the Year sponsored by ACOI & IOB, celebrating the success of Ireland's top fund services professionals and acknowledging their outstanding individual achievements in this industry. With the celebration dinner set for November 1st in the Round Room at the Mansion House, Dublin,  here's a full list of the finalists in this category:
Meet The Finalists
Claire Conroy

Senior Consultant – KB Associates
Claire qualified as a Chartered Accountant in PwC's Asset Management audit practice
Broadened funds knowledge as an in-house Senior Fund Accounting & Operations Analyst for a London-based hedge fund manager.
Currently Senior Consultant in KB Associates providing key operational and compliance support to a variety of global asset managers. Keen tennis player
Conor Griffin

Manager – BNY Mellon
Conor joined BNYM as an Administrator and gained promotions through the ranks to Manager in Investment Fund Services, receiving three Aspire Awards for outstanding performance.
A graduate of UCC (BA & MBS), Conor has also been awarded LCOI by the ACOI, completing the Professional Diploma in Compliance with the IOB.
Alice McAlinden

Fund Accounting & Valuations Manager – HSBC
Alice McAlinden is an Accounting & Valuations Manager at HSBC.
 Alice has over ten years' experience working within the funds industry in Ireland and has amassed a wealth of experience working with Alternative Hedge Funds, People Management, Business Implementation and Migrations. Prior to joining HSBC, Alice held positions at BNY Mellon and Irish Life.

Laura Sharkey
VP for Investor Relations, Private Equity and Real Estate – Citco Fund Services (Ireland) Limited
A strong professional with 8 years' experience in the funds industry.
Adept at building and maintaining key relationships, and with a demonstrated agility to tackle industry changes and face challenges head-on.
Upwards career progression has been aided by a side-move into the rapidly growing Private Equity industry in Ireland
We would like to take this opportunity to thank all of our nominees within this category and wish our four finalists the very best of luck on the night and in their future careers.