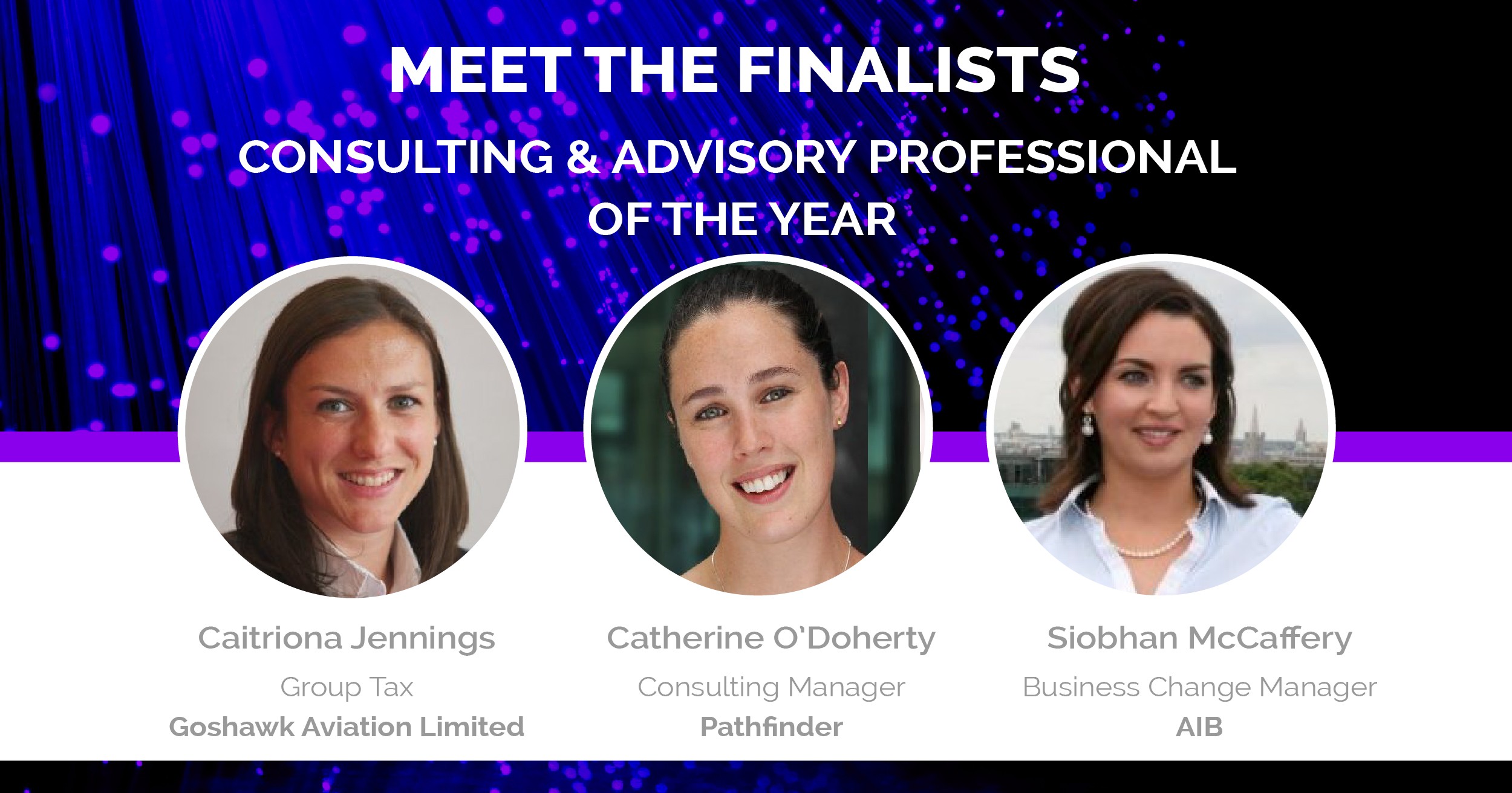 01 Nov

Meet the Finalists – Early Career Consulting and Advisory Professional of the Year

Judging for the Irish Early Career Awards 2016 has now been completed and we are proud to announce the finalists for the 2016 Early Career Consulting and Advisory Professional of the year. This category celebrates the success of Ireland's top consulting and advisory professionals and acknowledges their outstanding individual achievements in this industry.

The finalists for the Early Career Consulting and Advisory Professional of the year are:
MEET THE FINALISTS
Caitriona Jennings
Group Tax – Goshawk Aviation Limited
Formerly Tax Director – PwC
Caitriona has an extended list of academic credentials behind her graduating from UL, Chartered Accountants Ireland, Irish Tax Institute and DIT with Bachelor's Degree, Law and Accounting,ACA qualifications, Chartered Tax Adviser and Postgraduate Diploma, Financial Services (Securitisation).
Caitriona is a chartered Accountant & tax advisor with 15 years experience working with PWC culminating in 2016 with her promotion to Tax Director. Her most recent career move has joined Goshawk Aviation Limited, where she is responsible for the group tax function.
Caitríona, an Olympian, competed in the marathon at the 2012 Summer Olympics in London and placed 4th in the World Championships 50K in 2015
---
Catherine O'Doherty
Consulting Manager – Pathfinder
Catherine is a highly talented Consulting Manager, with over 10 years in the industry delivering high-quality work and enabling lasting change in teams and Organisations. With both national and international experience in consulting, Catherine has previously worked for Accenture (Dublin), and Changeworks Consulting (Melbourne) with a wide range of clients in the public and private sector before joining Pathfinder where she currently works as a Consulting Manager.
Catherine studied at the University of Limerick graduating with a BBS, Economics and Finance in 2007 and  is currently pursuing her BSc in Counselling and Psychology in her spare time.
---
Siobhan McCaffery
Business Change Manager – 

AIB
Siobhan graduated from UCD in 2012 with a BBL (Honours), Business and Law degree.
Over the course of her career, Siobhan has worked with a variety of organisations both nationally and internationally specialising in retail banking and finance transformation. Siobhan has considerable experience in project/programme management and implementation in the areas of strategy, operations, platform integration, risk assurance, data conversion and process improvement.
Siobhan is currently working with AIB as their Business Change Manager – Operational Risk. Siobhan has achieved multiple honors and awards in her career to date including being a CIMA National Prizewinner and UCD High Achiever and Scholar.