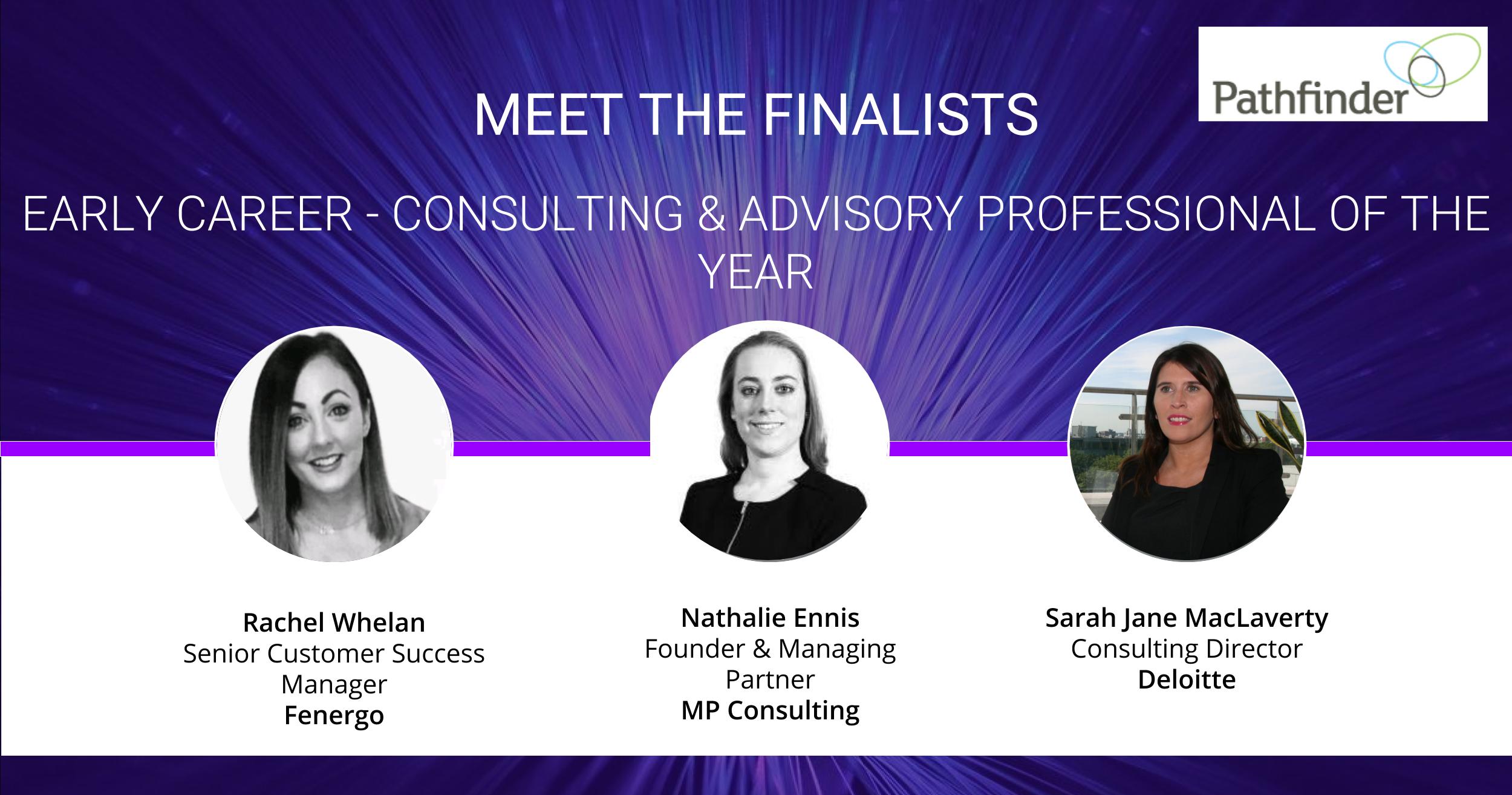 23 Oct

Meet the Finalists – Early Career Consulting and Advisory Professional of the Year 2018

Judging for the Irish Early Career Awards 2018 has now been completed and we are proud to announce the finalists for the Early Career – Consulting and Advisory Professional of the year sponsored by Pathfinder. This category celebrates the success of Ireland's top consulting and advisory professionals and acknowledges their outstanding individual achievements in this industry.
MEET THE FINALISTS
Nathalie Ennis

Founder & Managing Partner – MP Consulting
Nathalie Ennis is the founder and Managing Partner of MP Consulting, a boutique management consulting firm.
Nathalie started her career with Deloitte, working with a variety of financial services organisations specialising in banking and investment management.
In August 2016 she founded MP Consulting to expand on her considerable experience in project/programme management and implementation in the areas of strategy and operations.
Sarah – Jayne MacLaverty

Director – Consulting – Deloitte
 Sarah Jayne is a Director in Deloitte Consulting. With over a decade of experience leading complex change programmes for global FS clients, her area of focus resides in regulatory change and Core Banking Transformation.
She founded WIN – Deloitte Ireland Gender Diversity Initiative as well as the Consulting People Awards.
Rachel Whelan

Senior Customer Success Manager – Fenergo
Rachel has worked for Fenergo for nearly 5yrs, starting in HR Department when we were a start-up through the tremendous growth we have experienced.
She moved into a Professional Service role where she was promoted to Senior Customer Success Manager.
Her work in Fenergo has led her to traveling and working with some of the biggest banks in the world.