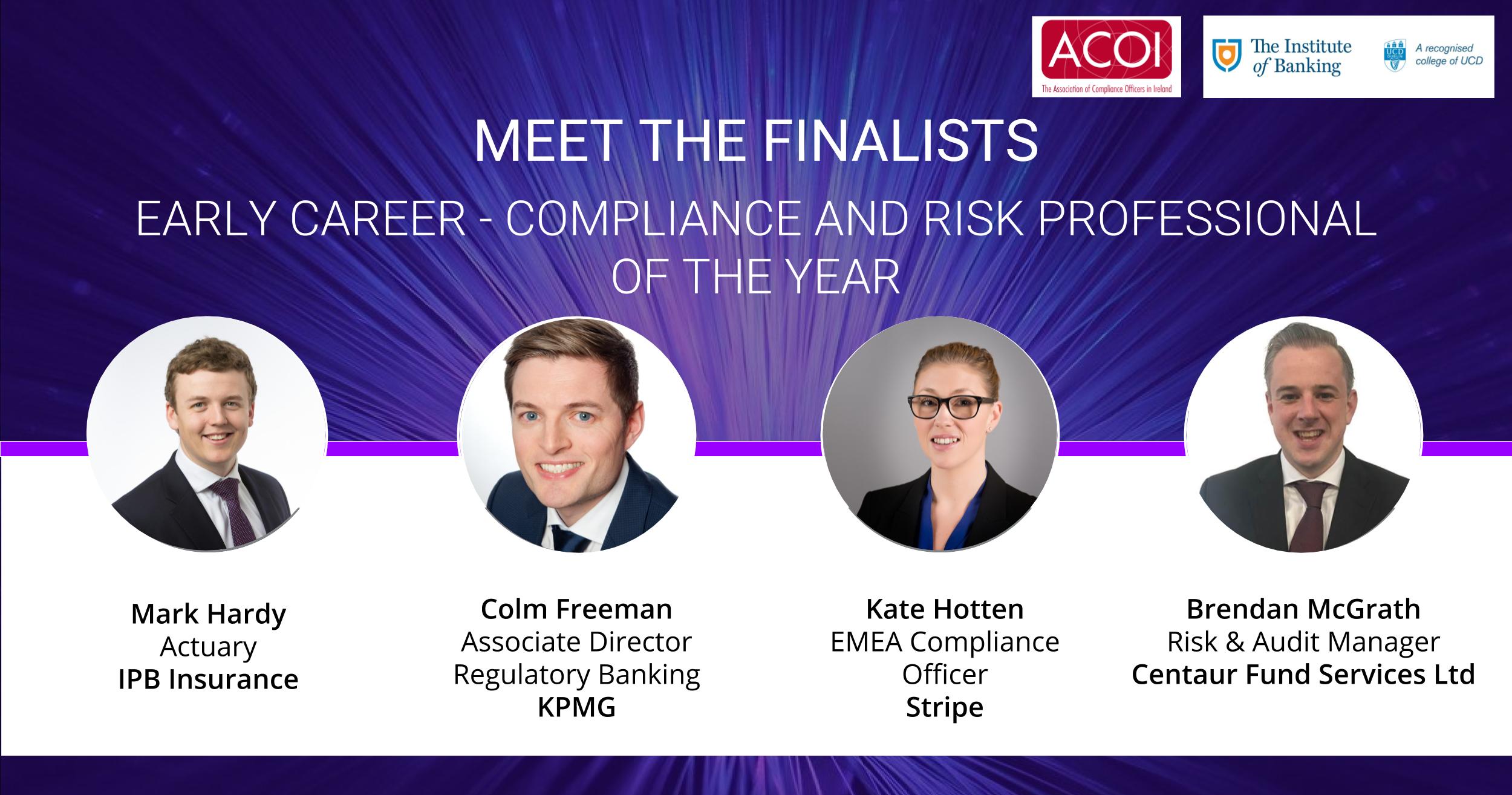 23 Oct

Meet the Finalists – Early Career Compliance and Risk Professional of the Year 2018

The Irish Early Career Awards are proud to announce the finalists for the 2018 Early Career – Compliance and Risk Professional of the Year sponsored by ACOI & IOB , celebrating the success of Ireland's top compliance and risk professionals and acknowledging their outstanding individual achievements in this industry. With the celebration dinner set for November 1st in the Round Room at the Mansion House, Dublin,  here's a full list of the finalists in this category:
Meet The Finalists
Colm Freeman
Associate Director Regulatory Banking – KPMG
Colm is an Associate Director in Regulatory Banking with KPMG. He advises clients on recovery and resolution planning, governance reviews and prudential risk issues.
Colm is graduate of the Institute of Banking's MSc in Compliance and a Fellow of the ACOI. He recently started an MBA with Trinity College Dublin.
Mark Hardy
Actuary – IPB Insurance
Mark received a first-class honors undergraduate BSc. He graduated in first place in postgraduate degree.
Mark qualified as an actuary at age 23, the youngest actuary in Ireland at that time.
Mark currently leads IPBs actuarial team, presenting to Board
Kate Hotten
EMEA Compliance Officer – Stripe
Kate Hotten is the EMEA Compliance Officer for Stripe, where she helps run the company's global financial crimes program.
With over ten years experience in anti-money laundering and sanctions, counter-terrorist financing and anti-bribery, she's active in the industry and helps inform conversations on best practices.

Brendan McGrath
Risk and Audit Manager – Centaur Fund Services Ltd
Brendan has enjoyed a steep career path. Since 2009, at Hedgeserv and Citibank he was quickly promoted before progressing to Centaur as Risk and Audit manager.
Recently elected to the Irish Funds internal audit industry working group, Brendan holds an MA in Financial Engineering, ACCA membership and PRIMA ORM certification.
We would like to take this opportunity to thank all of our nominees within this category and wish our four finalists the very best of luck on the night and in their future careers.