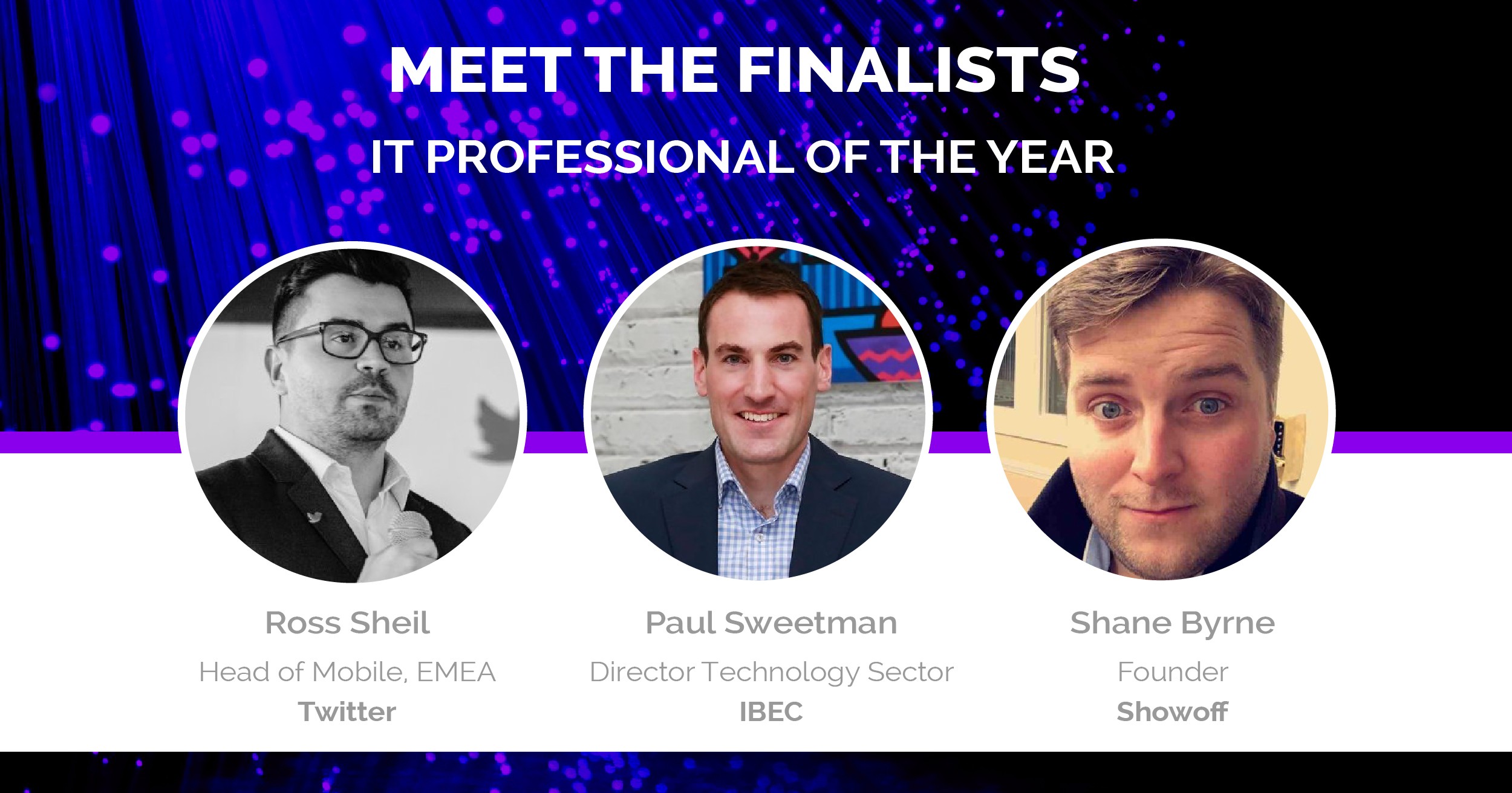 25 Oct

Meet the Finalists – Early Career IT Professional of the Year 2016

Judging for the Early Career IT Professional of the year award 2016 has now been completed. This year we received a large number of nominations from professionals across a broad range of industries and sectors including startup's and local enterprises, large multinationals and government bodies, all of an exceptionally high standard.

The finalists for the Early Career It Professional of the Year 2016 are:
Meet the finalists
Ross Sheil
Head of Mobile, Europe, Middle East & Africa (EMEA) – Twitter
To date, Ross has worked with some of the industry leaders within his field covering a range of positions with MUZU.TV, IAB Europe, Initial Capital and Twitter International where he currently works as Head of Mobile, EMEA.
Ross graduated from UCD and DIT, Undergrad English,  Postgraduate Law,  Masters Marketing prior to working in this industry.
Ross is a regular speaker in the tech industry representing Twitter globally and speaking at the industry's largest conferences like Mobile World Congress in Barcelona 2016, The Europas 2016 in London, Mobile Growth 2016 in Berlin, Mobile Games Forum 2016 in London, The App Promotion Summit 2016, Viva Tech 2016 in Paris.
In 2016 alone, Ross has been recognised for a number of achievements and awards including:
Top Advertising Executives – Business of Apps
Top Mobile Keynote – App Index
Top Mobile Influencers – Game Sauce
---
Paul Sweetman
Director, Technology Sector – IBEC 
In 2016, Paul completed a Diploma in Leadership (DIT) and is undertaking a Certificate in Governance at the Institute of Public Administration. Paul holds a Bachelor of Engineering (UCD) and a Masters of Science (Virginia Tech, USA). With 12 years PQE Paul is currently working with IBEC and is an Executive Board Member of Digital Europe.
Paul launched the 'Technology Sector Manifesto', detailing the technology sector's 30 asks for Government. Through Paul's leadership, many of these recommendations have been delivered.
Nominated by Google, Paul is the Irish representative at the 2016 Internet Leadership Academy at Oxford University, a programme offered to a select group of up-and-coming policy thought-leaders from across the globe to discuss major issues shaping the digital future.
---
Shane Byrne 
CEO and Founder – Showoff
Shane is a qualified financial advisor with a degree in finance from UCD, which he obtained while working in the sector. Shane has a wealth of international experience in this industry working in the US, Australia, and Europe.
Turning his hand to a new venture Shane is now CEO and co-founder of Showoff, an award winning, fast paced, cutting edge software solutions and app development company based in Co. Wicklow.
In just four years the founders have seen their business develop and grow their team from 2 people to 18 employees.
Showoff's apps have been featured across various media channels, Sky News, RTE, The Irish Times and Today FM.
Over the past couple of years Shane and the team have won a number of awards including:
Wicklow's Young Entrepreneur 2014
South East Best Young Entrepreneur 2014
National Enterprise Award Winner 2016
We would like to take this opportunity to thank all of our nominees within this category and wish our three finalists the very best of luck on the night and in their future careers.