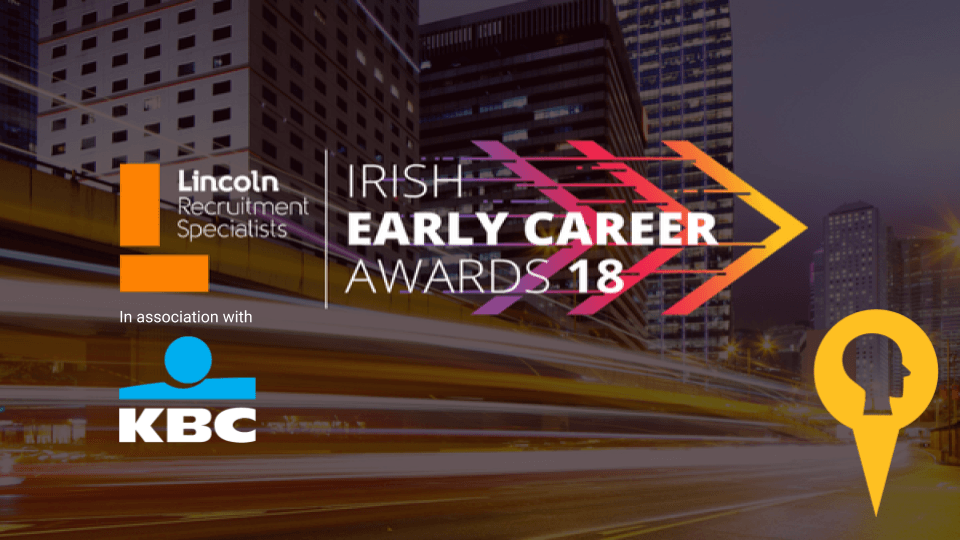 24 Aug

2018 Launch – Lincoln Recruitment Irish Early Career Awards

This August we are delighted to announce the launch of The Lincoln Recruitment Irish Early Career Awards 2018 in association with KBC Bank Ireland. With nominations now open we invite you to get involved by nominating Ireland's young talented professionals. With the entry deadline set for September 21st, there's plenty of time to apply, nominate and sponsor.

Building on the success of previous years we have added five new categories to hone in on the skills and achievements of the Irish workforce. These categories are  Early Career Public Services Professional, designed to award those making a difference in their community on a day to day basis, Early Career Compliance & Risk Professional to include the high skilled regulators in the industry, Early Career Sales Professional to acknowledge the achievements of young Irish salespeople in an increasingly competitive market,  Early Career Digital Professional to celebrate the talent driving the digital era for businesses and Early Career Fund Services Professional to recognise the key achievements in the Irish funds arena.

We are excited to welcome Lincoln Recruitment as our title sponsor for this year's awards. Lincoln has long been behind the awards, and as an industry leader in talent selection for Ireland's young professionals, this was a natural and welcomed step for the company's continued involvement.

Shay Dalton, Managing Director of Lincoln Recruitment and chairman of the judging panel said: "I have seen first-hand the benefit of promoting, nurturing and developing young professionals in the early stages of their careers.  The Irish Early Career Awards provides a platform for formal recognition of the individuals themselves and also for organisations who promote and develop these young professionals. The success of the outstanding professionals we have moving up through the ranks of Irish business should be acknowledged, and at Lincoln, we want to celebrate that."


In keeping with last years awards, we're pleased to have KBC Bank back on board as our premium sponsor for 2018. KBC Bank strives to support young professionals within the awards categories stretching across the sectors from finance to digital and marketing.

This year's award will be produced by Premier Publishing & Events to accelerate the success of the awards further.

The awards will be held on the evening of November 1st in the Mansion House, Dublin. We look forward to seeing this years finalists for a black-tie ceremony to celebrate the successful young professionals of 2018.